I think it's about time my blog got a logo, don't you?
I know a lot of you guys out there want to save money and design your own logo. Although it may sound easy a truly well designed logo is defined by its ability to be distinct and memorable. 
Which makes the process challenging, but also deeply rewarding. This will be hopefully a honest look at it.
Challenge
"Font Voyage"
---
Design a logo that is distinct at all reasonable sizes. Logo must be practical for social media specifically but not limited to: Facebook, Twitter, Pinterest, and Instagram. A black and white copy of the logo must be provided as well as a transparent copy.
Uses for this logo include
Site Heading
Cover Title
Watermark
Letterhead
Business Card
Physical Merchandise
Key Users
Bloggers
DIY Creators
Photographers
Novelists
Entrepreneurs
Beginner and intermediate level creatives
---
Now that I have my project more or less defined, I have a pretty good idea of what I want in a front.
The Ideal Font Must Be The Following..
Legible at all reasonable scales (32 pts, 16 pts, 12 pts, 8 pts).
It has to have personality but also be a clean look to it.
Must be attractive without any supporting graphic.
It must capture a common theme that translates across creative disciplines.
It must fulfill the previous criteria in color as well as black and white.
This is the trouble when you have a product or service that serves a broad customer base–finding a unifying symbol or theme can be difficult. It's a lot to ask of a font but it has to be done.
So first we have to make sure we know when we have found the right font. Specifically by creating a testing ground. Mine is Photoshop which is what I'll be using.
As you can see by having a test area, I can quickly find out if my current front meets my criteria.
So, do you think this font meet the criteria we have created?
In my opinion it does not. I don't think it is legible enough when it is scaled down and that it is not distinct enough, so let's see what are options are.
For the sake of speed and variety I use Dafont. They have a very large and every growing collection of fonts that are available for download. The search filters and text preview features also are going to make this process a lot easier.
Pro Tip: When initially selecting fonts for logos always view them in their "tiny" form. If a Logo doesn't look good when it's tiny you are eliminating a lot of future design options for yourself.
And the winner is…
Disclaimer (01/11/2019): This is not the font I ended up using. You'll see why in the next part of the tutorial.
"Hands Down"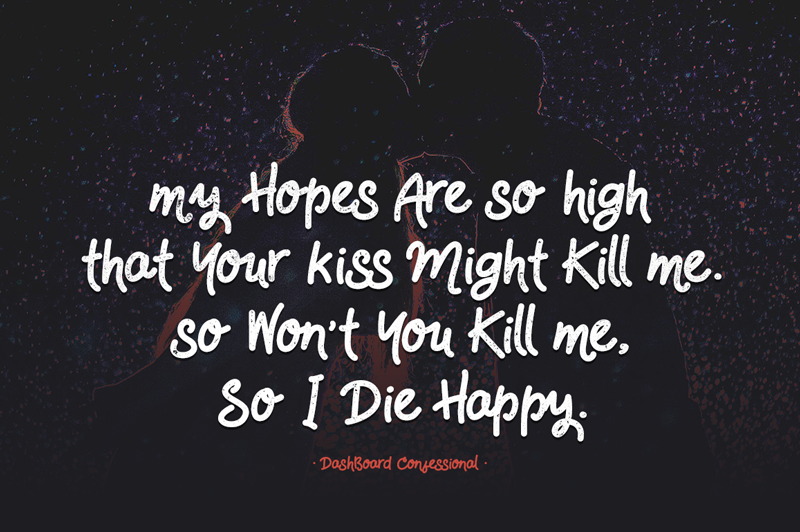 Sometimes you just get lucky. Not only does this font in my opinion capture all the key criteria I set out for myself, it also goes well with the theme I was thinking of–"Your First Art Journal". 
What clinched the choice for me was the author's note:
Handsdown named after my very fav song ever, Hands Down by Dashboard Confessional.
Thinking about Dashboard Confessional takes me back to high school in a big way, and having a personal connection to my designs always fires up my creativity.
So let's summarize the steps that brought us to this font.
Identified Key Uses For The Logo– With uses cases for logos I think it's good think broadly. Sure you might be photographer now but you maybe photography book publisher in the future. You might be a blogger today but you may have your own line of products in the future. Dream big!
Identified Key Users For The Logo– These are the people who you need to be memorable to. Since this logo will be for this blog I basically used my followers who engage with my posts the most. If you don't have followers yet, I'd recommend identifying who you want your customers/followers to be.
Identified Key Qualifiers For The Font– How do you know when you have found the right font? No, I'm serious–how do you know? As tempting as it is base your font choice by taste and aesthetics alone do not undervalue function.
Search for font on Dafont.
Now that the font has been selected, it's time to set up for the next part of the challenge–Key Users.
---
In the Next Part of the Challenge I will be creating Customer Profiles.
Blog Readers
DIY Creators
Photographers
Novelists
Entrepreneurs
Beginner and intermediate level creatives
Customer Profiles is sort of information that I'd love to have provided to me by my clients, but usually are not. So my next post will be about creating one. If you'd like to learn more Aerolabs has a great post about it.